Andy: I really don't have any idea what to make of the NFC South this season. Tampa has a new coach, again, and a new QB (well,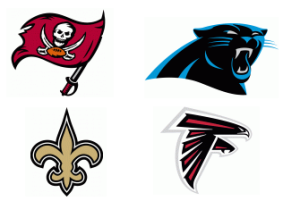 an old guy, but new to Tampa), again. Carolina let almost all of its WRs go in the off-season, leaving the franchise star with few established targets. Atlanta was terrible last year, but was that because they got old and regressed or because injuries crushed them from the word go?
About the only team with any real continuity heading into the season is New Orleans, where Sean Payton and Drew Brees appear to be ready to lead one of the few teams that could give an NFC West team a challenge in the post-season.
Tony: The NFC South was possibly the most disappointing division last year. The Falcons fell off the face of the earth in one season, and the Bucs turned a promising 2012 into a sideshow that could have been epic proportions, if not for the even bigger cluster going on across state at the time.
The Saints, meanwhile, potentially showed the true value of coaching, rebounding from a Sean Payton-less 7-9 to get back to 11 wins.
The biggest surprise of the year, though, was the Carolina Panthers, who opened with a coach on the hottest of seats, and finished 12-4 with a division crown. Continue reading →
Andy: Well, we go from probably the worst division in the NFC to … one at least a bit more interesting. I don't think any of these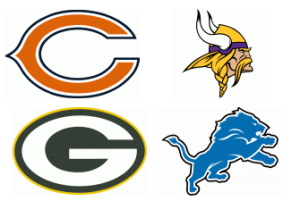 teams are going to the Super Bowl, but there are at least some competitive story lines.
Jared Allen goes from Minnesota to Chicago. Julius Peppers goes from Chicago to Green Bay – I heard someone talking about Peppers and Clay Matthews moving around a lot and rushing the passer … I hope they get him, because the coverage is going to suck. But anyway – new coaching staffs in Detroit and Minnesota, new WRs and TE Eric Ebron to team with Calvin Johnson in Detroit and a new QB, at least eventually, in Teddy Bridgewater in Minnesota.
The hierarchy probably doesn't change much, in my eyes, at least this year. Aaron Rodgers is a top three QB in the game and with Eddie Lacy at RB, that offense is multi-dimensional and scary. The defense isn't going to be great, but it'll be good enough in the regular season. The Bears also lack on defense, but Matt Forte and the WR combo … that's tough. Detroit has to prove it's better than a mid-level team before I'll believe at this point. And the Vikings are better, but not quite good enough to fight for playoffs yet in my mind – give them a year under Mike Zimmer first. Your thoughts?
Tony: I don't think the Packers are as much of a lock as their fan base seems to think. Of course, their fan base thinks that every year, no matter what their real outlook is. If they keep all of their weapons healthy, they have a shot, but they haven't had a lot of success staying healthy as of late—looking at their ProFootballReference page from last year, the only guys that started all 16 games are guys you really don't want starting at all, outside of Jordy Nelson. They lost their starting center, and even though I wouldn't have been able to have told you before he left that his name was Evan Dietrich-Smith, apparently it was a big enough deal that Rodgers wasn't happy about the loss. Their big time TE is contemplating taking an insurance settlement retirement package. But they did manage to sign Jordy Nelson to an extension, probably because he meets the main criteria to get big money in Green Bay… Continue reading →
Andy: This division might have been the worst in football last year and I don't know that there is a lot of reason to believe it's going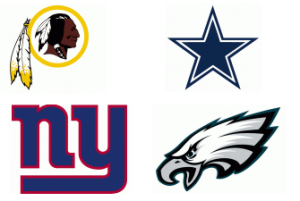 to be any better this year. Philadelphia came around last year and won it, but it seemed more to me like a hot potato game where nobody really wanted it, but in the end someone had to win it. Dallas did little to improve a terrible defense and got worse by losing DeMarcus Ware to the Broncos and Shaun Lee to injury. The Giants … Eli Manning was already running for his life and with the Chris Snee retirement news, he's got to be a bit nervous heading into the season. And who knows what the hell you're going to get with Washington.
Tony: Seriously, why are we starting with this division? Shouldn't we try to sneak this one in on some Saturday night when no one is reading? You know how sometimes a division will finish with a lot of teams with mediocre records because they beat up on each other all year? This is the opposite…this division should be the poster child for not expanding the playoffs, and possibly coming up with a better solution, because it is very possible likely that no team in this division will deserve the spot. Last year's division champ has a still unproven QB who lost his top WR and a no name defense. The Cowboys lost one of their best defensive players to the salary cap, and the other to a torn ACL for 2014, and are still hamstrung by their owner not firing their General Manager. The Giants are trying to solve their woes by adding a new offensive coordinator rather than infusing talent, and the Redskins did add the Eagles top WR, but still have to hope that their new coaching staff can figure out how to make RG3 not look like RGKnee. I take the Eagles, and beg that we move on to the next division. Continue reading →
Among veteran WR storylines this offseason, Andre Johnson's dissatisfaction with his situation in Houston dominated the headlines. But the preseason angle I'll be keeping an eye on over the next couple weeks is Reggie Wayne's recovery from his 2013 ACL tear.
Wayne is a key to the chances Indianapolis carries to keep building a team that might be one of the AFC's best and only competitors to a Denver repeat appearance in the Super Bowl. And getting a couple more solid seasons in could solidify Wayne's run toward an eventual enshrinement in the Hall of Fame.
Prior to getting hurt last year, Wayne had played in every game for 11 straight seasons, along the way putting up numbers that have him eighth all-time in receptions (he's the active leader now that Tony Gonzalez has retired).
| | | |
| --- | --- | --- |
| | Name | Receptions |
| 5 | Tim Brown | 1,094 |
| 6 | Terrell Owens | 1,078 |
| 7 | Isaac Bruce | 1,024 |
| 8 | Reggie Wayne | 1,006 |
| 9 | Hines Ward | 1,000 |
| 10 | Randy Moss | 982 |
Source: Pro Football Reference
I'm a Minnesotan. Over the last week, the only sports headline that has come close to competing with the many Kevin Love trade rumors is the lawsuit filed by former Vikings punter Chris Kluwe against his former team.
Without going into every detail, Kluwe's case deals with claims that his special teams coach, Mike Priefer, created a hostile work environment by saying things such as: "put all gay people on an island and nuke them until it glows."
The Vikings coach denied it several times, but once it was corroborated by current Vikings player then Priefer admitted it. He was suspended by the Vikings for three games, which will be reduced to two if he completes sensitivity training.
Sticking with the NFL (this does lead to MLB, I promise), the league came out Thursday with its punishment for Baltimore Ravens star running back Ray Rice, busted during the off-season for dragging his unconscious girlfriend out of an elevator (this is on video).
The NFL slapped Rice on the wrist with a two-game suspension for domestic violence. This is half the punishment that Rice would have received had he used performance enhancing drugs. These penalties, respectively for Priefer and Rice, make a mockery of both domestic violence and gay bashing. Continue reading →