Andy: I've thought the last couple years that the NFC's two strongest teams came from the NFC West. I still feel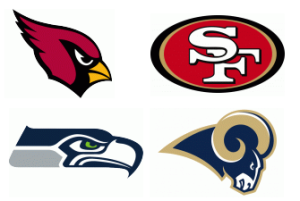 that way, though one of the participants has changed.
I still think the Seahawks are the class of the division. The offensive line took a hit in trading Max Unger to New Orleans, but the offense overall should get a boost from the presence of Jimmy Graham. The defense should still be top notch.
After that, I think the Cardinals – if Carson Palmer stays healthy – have jumped San Francisco and they look to me like a real contender.
Tony: I'm not disagreeing that the Seahawks are still the class of the division—or that the offense might get a boost from Graham—but overall, I think Graham's numbers suffer in Seattle, more than he brings up their offense. Experts targeting Russell Wilson as the #2 or #3 QB just baffle me—3,500 yards and 20 TDs last year do not suddenly jump to 4,500 and 30 TD just because Graham is in town. Their leading TE last year saw 44 targets and 22 catches for 3 TDs, and the team had 525 rushing attempts. Unless they reduce Beast Mode's workload, I would expect Graham to see about 90 targets, 65 catches, 750 yards and 7 touchdowns this year—not bad for a TE, but not up to his standards.
The Cardinals, meanwhile, did jump the 49ers last season and remain second in the division—more by default, though, than by anything they've done. Yes, signing Mike Iupati was a solid move, and they are getting Carson Palmer back. But can he stay healthy? Can Andre Ellington stay healthy? Can David or Chris Johnson do anything if/when Ellington misses some time? Does the loss of Todd Bowles hurt the defense significantly? [Read more…]