As often happens in the NFL, Sunday brought a lot of unexpected. Among the most interesting things we saw this week:
New England, New Orleans, Chicago and Green Bay are among teams with high expectations that didn't look good at all and either lost big or stole defeat from the jaws of victory after getting out to a strong lead. That's got to be particularly stressing for these teams though because all have high expectations for postseason play and each looks to have a formidable challenge ahead in week two:
o The Patriots have to go on the road to play a Minnesota team that looked far better than expected in dismantling St. Louis
o The Bears have to travel to San Francisco, with the 49ers coming off a game in which they had no trouble holding off Dallas and Chicago continued to look vulnerable to the run.
o The Saints looked brutal on defense and they now head to Cleveland. While they have more talent than the Browns, New Orleans never looks as good on the road, particularly on grass. Continue reading →
| | | |
| --- | --- | --- |
|   | Andy | Tony |
| AFC West | Denver | Denver |
| AFC North | Cincinnati | Cincinnati |
| AFC South | Indianapolis | Indianapolis |
| AFC East | New England | New England |
| Wild Card | San Diego | Kansas City |
| Wild Card | Baltimore | Tennessee |
| NFC West | Seattle | Seattle |
| NFC North | Green Bay | Chicago |
| NFC South | New Orleans | New Orleans |
| NFC East | Philadelphia | Philadelphia |
| Wild Card | San Francisco | Arizona |
| Wild Card | St. Louis | Tampa Bay |
| NFC Champion | Seattle | Chicago |
| AFC Champion | Denver | New England |
| Super Bowl Champion | Denver | Chicago |
Andy: I know in most seasons there is a fair amount of turnover in playoff teams, but I just don't see a lot of that happening this year. A lot of the really strong teams almost seemed to get stronger and I think there are even going to be some potential rematches to be had in 2014.
Tony: I so want to disagree with you, if for no other reason than it makes for more interesting writing. But, while typically between five to seven teams change over, I can't see that happening this year, as I actually ended up with six of eight division winners from last year repeating. Continue reading →
Tony: For the first time in … as long as the Browns have been back in the NFL, the AFC North might be the strongest division in the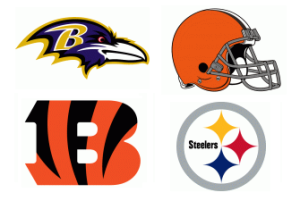 AFC from top to bottom.
Looking at the Raiders, Jaguars, Texans and Jets, that might not be saying much, but more so than in the other divisions, an argument could be made that ANY team could end up winning the North.
The Bengals are coming off of an 11-5 season and division championship. Much like brother Jim and the 49ers, John Harbaugh & Co. don't rebuild the Ravens, they simply reload, and could easily improve on their 8-8 record (the worst the team has had since 2007). The Steelers showed their age early in the season, but came on strong at the end of the season, going 8-4 after the bye, 6-2 after a drubbing at the hands of the Patriots, and winning their last three.
And then there are the lowly Browns, who started the offseason on an incredibly weak note, firing a head coach with no apparent plan in mind to replace him (or at least no backup plan when the Jim Harbaugh experiment failed), but parlayed their draft into becoming possibly the most talked about team in the league with a player that could spark an immediate turn around. Of course, he could just as easily doom the franchise to another 5 years of less than mediocrity…
Andy: I think you broke federal law not mentioning Johnny Blackjack, err Johnny Nightclub, err Johnny SixPack, err Johnny Football in your first paragraph. That said, I agree with the sentiment – this division will be competitive, though that is equally due to all four teams being flawed as it is to their being good. Continue reading →
Andy: This division produced three playoff teams last year, but only one really mattered. My sense is that Peyton Manning could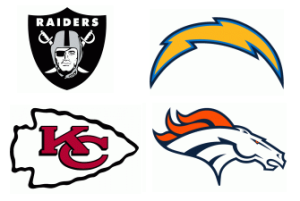 fall off in his play by 10 to 15 percent in key metrics from 2013 and still be a contender for league MVP.
The Broncos remain the class of this division and it might be by a bigger spread than last year.
Tony: The Chiefs were the shock of the first half of the season, starting 9-0, but their true colors (and Alex Smith) showed through, finishing 2-5 the rest of the way. But Jamaal Charles could put any team in contention for a playoff spot, especially with a defense that tied for the fourth fewest points allowed in the NFL.
In their first season away from the clutches of Norv Turner, the Chargers also surprised many by making it back to the playoffs, although that may have had more to do with the lack of talent in the rest of the AFC more so than being a top talent. Still, to make the playoffs AND win on wild card weekend has to give fans in Southern California more reason for hope than they had under Norv. Continue reading →
Andy: I don't think Houston is as bad a team as the 2-14 record would indicate last season. Jacksonville is improving. And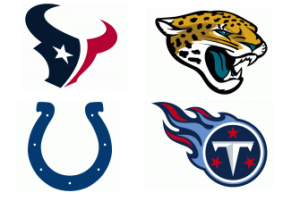 Tennessee has not been terrible the last couple years. But it's pretty obvious in my eyes that unless Andrew Luck takes a dramatic step back in 2014 that the AFC South is going to go through Indianapolis again.
Tony: The Jaguars actually have been more impressive in preseason than I expected—not that winning one of the first two preseason games means much, but they might have already surpassed their 2014 win total I would have projected them at. Still, despite taking the highest QB in the draft, the Jags appear to be the team most convinced to take the right approach with rookie quarterbacks, seemingly content to use Chad Henne for the season regardless.
Expectations have risen for rookie quarterbacks with the success that teams have had with rookie quarterbacks like Luck, RG3, Matt Ryan and Cam Newton—but they are still the exception, not the rule, in my opinion. For every one of them, there is a Geno Smith, Christian Ponder, Ryan Tannehill and Brandon Weeden, who have not panned out to the level expected/hoped. Not to mention that none of the aforementioned QBs have led their team to the Super Bowl. Continue reading →