Andy: I was thinking the drama in the NFC North was primarily going to be for second place and a possible wild card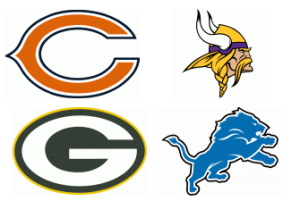 berth this season – and then Jordy Nelson tore his ACL.
I still think Green Bay has to be considered the team to beat. They've still got Aaron Rodgers and a lot of additional offensive weapons, but Detroit's offense looks great and the Vikings appear to have a lot of upside this year too.
Tony: What, no love for the Bears? I mean, any team that is led by Jay Cutler has a chance…to be very, very bad. I mean, when Martellus Bennett starts spouting off about whether or not you're a leader—and it's not even the regular season—well, that's a team that's got some problems. As a fantasy owner that inexplicably invested heavily in Cutler last season…well, I'm almost over it. However, as a Vikings fan, that's a beautiful thing to see.
The only thing that would be nicer to see? If it were the Packers. I mean, you never wish injuries on someone—not even your biggest rival. Well, maybe when you're playing them, and you want to see your All-Pro Defensive Tackle snap their All-Pro Quarterback with a record game streak in half … but other than that, never. But when it happens…it'd be nice if it didn't feel like they already had one or two guys waiting in the wings to take their place. I mean, if all the pundits are right about Davante Adams, and Ty Montgomery can slide into the #3 spot…well, next year we might be asking "Jordy who?"
Andy: I'm not sure those guys are going to make fans forget Jordy, but it does speak to the skills Ted Thompson has in assembling teams. I think the Packers are still a notch better than any other team in the division. [Read more…]