The Green Bay Packers are 66-30 with five playoff appearances spanning the last six seasons, one of which ended with the team hoisting the Lombardi Trophy.
But the last two seasons have ended with bad playoff losses, including a 2012 debacle in which second-year San Francisco quarterback Colin Kaepernick shredded the Green and Gold both on the ground and through the air.
So, despite being the strongest team in the NFC North over the last several years, there are questions heading into the draft and into offseason training sessions. Can the Packers solve problems with the offensive line, the running game and the leaky defense? Raymond T. Rivard, editor of LombardiAve.Com, says doing so could again make Green Bay one of the top teams in the NFL.
Zoneblitz: The Packers won the NFC North and have been the class of the division the last few years, but have now lost badly in the playoffs the past two seasons. How would you assess 2012 and what do the Packers have to do to get back to the Super Bowl? Continue reading →
Willie Davis is probably best known for his NFL playing career, perhaps rightfully so. After all, it did span 12 years and six league championships, including 1966 and 1967, when Green Bay won the first two Super Bowls.
Davis, who is unofficially the all-time Packers' sack leader, was inducted into the Pro Football Hall of Fame in 1981.
But as good as he was on the field, Davis has led just as successful a life in his post-football days. He's been a television commentator. He was president of All-Pro Broadcasting, which operates several radio stations. He was a successful executive in the beer industry. And he has served on the boards of nearly a dozen companies.
Davis grew up in Lisbon, La., where his mother hesitated to even let him play football. When he did get on the field, he parlayed the opportunity into a degree from Grambling State (where he played for the legendary Eddie Robinson) and a trip to the National Football League (where he played for the legendary Paul Brown and Vince Lombardi). He starred in the NFL, but he also nearly always had his eye on what he would do next.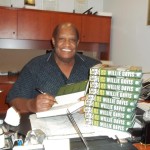 With the help of co-authors Jim Martyka and Andrea Erickson Davis, Willie Davis wrote recently published a book, Closing the Gap, that covers the journey that is his life. He also recently joined Zoneblitz.com to share some of those thoughts.
Zoneblitz: What made you want to write Closing the Gap? Continue reading →
It's been an up and down season for Green Bay so far, but the Packers came out of hiding on Sunday night. A six touchdown performance by Aaron Rodgers showed that the green and gold still has at least the opportunity and talent to put a beat down on any team in the league.
But they still need to gain some consistency.
"I think we'll know whether or not the Packers are back on track if they can put together a consistent string of victories," says Kevin McCauley, managing editor of the Acme Packing Company blog. "While the win over the Texans was great and could end up as the catalyst that jump-started the Packers' season, we didn't learn anything on Sunday night. We know the Packers have the talent to drop six touchdowns on anyone. What we don't know is whether or not they have the mindset, depth and coaching to perform consistently."
McCauley is our celebrity guest blogger for week seven. Week six was another close week, despite there being numerous differences in picks amongst the three of us—our guest blogger eked out a one game margin, going 8-6 for the week vs. 7-7 for Andy and Tony.
| | | |
| --- | --- | --- |
| | Week Six | Season |
| Celebrity Blogger | 8-6 | 55-36 |
| Tony | 7-7 | 53-38 |
| Andy | 7-7 | 52-39 |
This week, not nearly as much differentiation, as Andy & Tony matched all picks, while McCauley places his faith in the Vikings, Buccaneers and Steelers.
After two terrible weeks, I at least achieved respectability in week three. I still hit just two of four bets, but I did nail my upset of the week, Kansas City's win over New Orleans at +330.
Tony, on the other hand, has followed up a strong week one by posting two straight 1-3 marks – though he also hit his upset last week, with Cincinnati's win over Washington.
He violated one of his cardinal rules last week—never bet on "my" team — especially the Vikings, as usually they'll find a way to lose the bet and the game. At least last week, they only lost the bet. He still leads me by two for the season, however, with a 5-7 overall mark. The first two weeks were rough to me. I'm straggling at 3-9.
Still, there's no giving up now. I feel it starting to come together. Here are our Best Bets for week four. Continue reading →
I watched last nights game and followed along on Twitter with much amusement. There's seriously nothing funnier in the sports community than watching Twitter blow up after a questionable call. Unfortunately, less than twelve hours later, and it feels to me like very few people have really thought this through rationally or objectively, and instead are just insisting that we need to get these refs out of our sacred game, so we can get back to…yelling at the regular refs for blowing calls.
Here are some of my (somewhat disorganized) thoughts on the current situation with the referees: