There was a lot of carnage in the NFL this weekend and it didn't all happen on the field.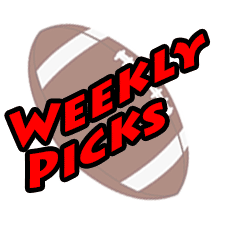 Several upsets – at least in how we picked the games, anyway – dotted the landscape, sending spiraling a picks segment that going back a few years has generally been fairly solid.
Fantasy Editor Anthony Maggio led the way this time around with an 8-8 record, to give you a sense for how bad things got. Weekly guest picker Dr. Phil got roughed up a bit too, going 7-9 – but he remains a game behind Tony for the overall lead after two weeks at 18-14.
Here are the standings through two weeks:
| | | |
| --- | --- | --- |
| Name | Week 2 | Overall |
| Tony | 7-9 | 19-13 |
| Maggio | 8-8 | 17-15 |
| Andy | 7-9 | 17-15 |
| John Vomhof Jr | 6-10 | 16-16 |
We're shaking our heads and licking our wounds, but we're getting back on the bicycle and taking another crack – while we wait to find out when superstars like A.J.Green and Jamaal Charles will return from injuries and ponder whether or not Adrian Peterson should be dressing this weekend for the purple.
Here are our picks for Week three: Continue reading →
It was a bad week for the NFL. A week dominated by bad news off the field ended with a weekend full of games more memorable for a flurry of injuries to big-name players, many of whom will be out several weeks, and for nationally televised, flag-ridden games that, at times, made the football unwatchable. The NFL is still at the top of the professional sports popularity poll, but many more weeks like this one and the league's critics who say it's on a downhill spiral may get their collective wish.
Here are some things we observed:
Just how tone deaf are the Vikings owners? Less than two weeks after video surfaced of Ray Rice hitting his now-wife harder than Marcos Maidana and Floyd Mayweather hit each other last weekend, reports surfaced that Adrian Peterson beat the tar out of one of his children with a stick. After doing the right thing and deactivating Peterson for last week's game with New England, ownership not only reversed course and made the ridiculously transparent decision to reinstate Peterson for week three, but forced coach Mike Zimmer and general manager Rick Spielman into the position of defending the move behind the ridiculous assertion of letting the legal process play out.
Every week during the NFL season I'll post my weekly position rankings to help you set your fantasy lineup (as will Bo Mitchell). Adjustments will be made throughout the week to account for news, injuries, etc. Post questions in the comments below or on Twitter @MPLSMaggio.
Last year, we dabbled with FanDuel as a way to try to cash in on our fantasy football research during the season, with moderate success–this year, we decided to take it a little more serious.  Here's a few things we've picked up on FanDueling so far:
One thing we picked up from a friend of ours who has been playing on FanDuel for longer than us is to stick with 50/50 leagues. Obviously payouts aren't as high as winning a standard league, but all you have to do is finish in the top half of the league. Given that we have the 17th foremost fantasy expert on the whole of the internet in our back pocket, we're pretty sure that we should finish in the top half of our leagues frequently.
We prefer to have at least a couple different leagues going, but we use different lineups in each league rather than the same one in each league. This hedges our bets a bit, in case we are off on one of our player picks.
There are numerous approaches to picking your lineups, but the one that we've settled on using most frequently is to grab at least a couple of top line starters, then we actually fill in our Defense, Kicker and TE with some mid-tier spots. Then we go back and fill in the rest of our starting offense, generally trying to find 4 guys who are average out the remaining dollars (ie, if we have $28k left, we try to find 4 guys in the $6700-$7300 range, rather than grabbing another guy in the $8k range).  We don't always stick to that last part, but we try.
Generally speaking, we also only set lineups on Sunday morning, rather than trying to jump on Thursday games. No need to end up with Adrian Peterson in your lineup the week that he goes and gets arrested.
Week 1 this year saw great success–we jumped in a couple leagues late Sunday morning, in one league riding Calvin Johnson and AJ Green to #9 out of 100, and Matt Ryan and Matt Forte and some spare parts to a #11 out of 100 in the other.
This week, so far we're only in one league, riding Andrew Luck and Jamaal Charles as our big dogs–we'll let you know our remaining picks next week, when we have our results in, but feel free to post your thoughts on who we should be using in the comments below.